There is no question that fertilization is a crucial part of keeping your lawn lush, healthy, and beautiful. It is a solution to common lawn issues such as lack of nutrients in the soil and slow-growing vegetation. However, despite the fact that most homeowners in Mansfield, Ohio are aware of the importance of fertilization, they are often unsure of the best time of year to schedule these services. There is not just one answer to this question; there are actually several great times of the year to fertilize your lawn in Mansfield. These times include the spring, summer, and fall seasons. Take a look at these reasons why to help you decide when to schedule your fertilization service.
---
1. Fertilize in the spring to help your grass come out of dormancy.
In northeast Ohio, temperatures typically stay consistent at around 50 degrees in the spring months (March through April). This means that your grass will begin to come out of the dormancy it was in throughout the winter season. Spring is a great time to fertilize your lawn because you will help your grass emerge from winter dormancy by giving it the essential nutrients it needs to turn green again and develop a strong, sturdy root system. Fertilizing during the spring season will also help your grass prepare for the summer heat that is on its way.
Springtime is also a great time to apply pre-emergent weed control so you can get ahead of weed growth.
---
2. Fertilize in the summer to help your grass beat the heat.
Cool-season grass is common in the Mansfield, Ohio area, meaning that the grass in your lawn thrives in cooler weather such as the spring and fall seasons. Cool-season grass tends to struggle in the hotter months of the year and needs that extra bit of assistance that will help it survive the summer. Fertilizing your lawn in the summertime is an excellent way to ensure that your grass has enough nutrients to stay green, strong, and lush. It will also fortify your lawn in case of drought-like conditions. We suggest fertilizing twice in the summer, once in early summer and again in late summer.
---
3. Fertilize in the fall to replenish the nutrients in your soil and prep your lawn for winter.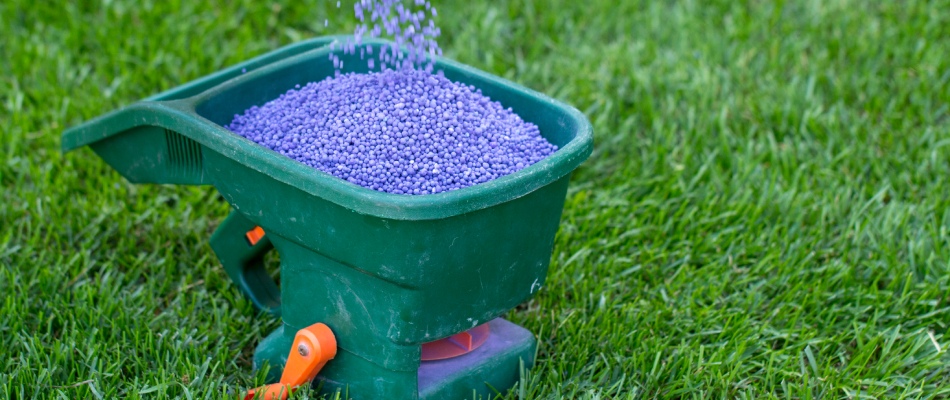 After a long, hot summer season, your grass needs just about all the help it can get. It is best to fertilize your lawn in the early fall months to replenish any lost nutrients throughout the summer months. This treatment should promote root growth and overall recovery. Then, it is important to also fertilize your lawn later in the fall season, as well. This is because, by that time, the cold winter weather is well on its way. You'll want to protect your grass from the harsh winter conditions by giving it nutrients that will encourage deep root development so that your grass is ready to fight off common winter lawn diseases like snow mold. The transition into the spring will be a lot smoother for your lawn if there are no festering diseases!
---
Call your local fertilization professionals for a price estimate today!
It is certain that fertilization is one of the most crucial parts of a healthy, gorgeous lawn. From promoting better disease resistance, replenishing key nutrients, and improving overall growth, there are countless benefits to having a fertilized lawn. Our professional fertilization team at Free Spray Lawn Care has been serving properties in Mansfield, OH and nearby areas like Wooster and Strongsville since 2000. We are the perfect choice to safely and efficiently fertilize your property. Make your lawn the envy of all your neighbors by calling us at 419-529-5296 today!