Overseeding Service in & Around Mansfield, Wooster, & Strongsville, OH
We offer two blends of premium seeds that will grow durable, greener, and healthier grass!
Everyone wants a dense lawn full of healthy, green grass, and you can get that with our overseeding service! We offer two types of cool-season seed blends, both of which will thrive in the Ohio climate: Kentucky bluegrass/ryegrass and turf-type tall fescue. We also offer a starter fertilizer to provide extra nutrients to the seeds, which will jumpstart their development and encourage strong root growth.
In order to provide the best seed-to-soil contact for the new seeds, our overseeding service must be scheduled after our aeration service. This will ensure that the seeds have the highest chance of successfully germinating. We happily serve properties in and around Mansfield, OH, including Wooster and Strongsville. Call 419-529-5296 to sign up for our overseeding service today!
---
We Offer Two Types of Cool-Season Seed Blends for Our Overseeding Service
Lawns in Ohio are made up of cool-season grasses because they thrive in the cooler weather. For our overseeding service, we offer two types of cool-season seed blends that are best suited for our area:
Kentucky bluegrass/ryegrass
Turf-type tall fescue
These blends are designed to grow durable, greener, and healthier grass; they will be less susceptible to diseases and establish a strong root system. What's better, any patchy areas on your lawn will be full of resilient grass, leaving fewer opportunities for weeds to emerge! You can't go wrong with either, but if you're unsure of which blend you want for your lawn, don't worry! Our professionals can give you more information on the seeds and steer you in the right direction.
---
Adding a starter fertilizer will give your seeds essential nutrients to thrive!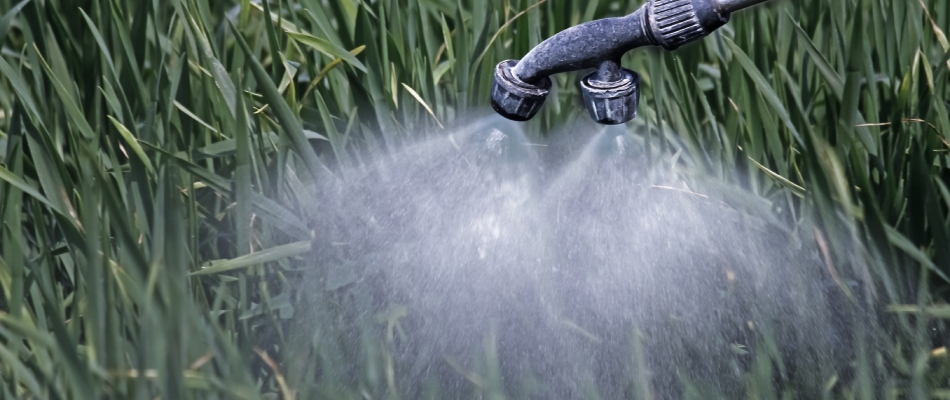 A starter fertilizer is tailored to supply seeds with the nutrients they need to enhance their development during the early stages. To maximize the results from our overseeding service, we highly recommend taking advantage of our starter fertilizer! Once we plant the seeds, we treat them with the starter fertilizer right away.
---
Overseeding Works Best When Paired With Our Aeration Service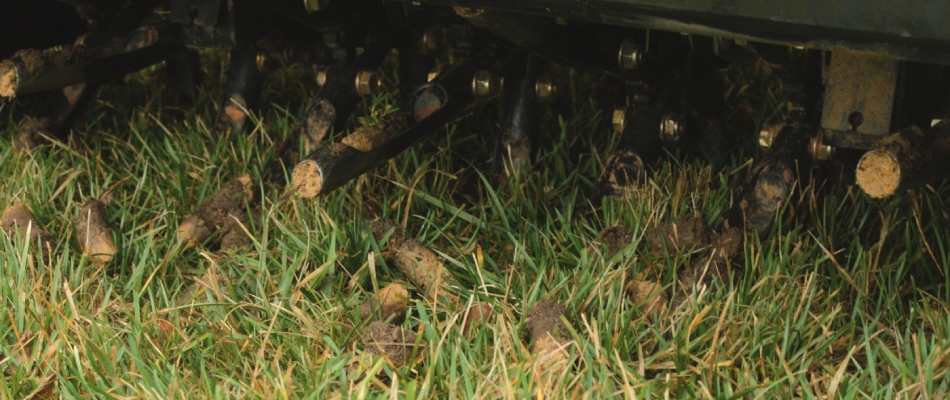 At Free Spray Lawn Care, we want to equip your lawn with the proper tools it needs to thrive and give you the most from our services. Therefore, we offer overseeding in conjunction with our aeration service. Core aeration is the process of pulling "cores" from the soil, leaving holes that allow the roots of your grass to have better access to essential resources. These holes are also the perfect spot for seeds to fall into! The seeds will come in direct contact with exposed soil, encouraging quicker root development and grass growth. With this powerful duo, your lawn will be dense and thick with healthy, green grass in no time!
We offer our aeration and overseeding services in the fall while the temperatures are ideal to ensure the best chance of success!
---
Call us to sign up for our overseeding service!
With 21 years providing high-quality services, you will not be disappointed with our overseeding service! Your dream lawn doesn't have to be a dream anymore; our professionals will work to thicken your lawn and fill any bare areas with healthy, emerald green grass. Even after we've finished, we're still here for you! We will teach you how to take care of your lawn and give you the best watering schedule to prevent your seeds from drying out.
We offer our overseeding service to properties in Mansfield, OH and surrounding areas, including Wooster and Strongsville. Call us at 419-529-5296 to get started on achieving your dream lawn!