We provide lime applications for properties in Mansfield, Wooster, Strongsville, OH, and nearby areas.
Our team will test your soil for free before applying granular limestone to balance your soil's pH levels.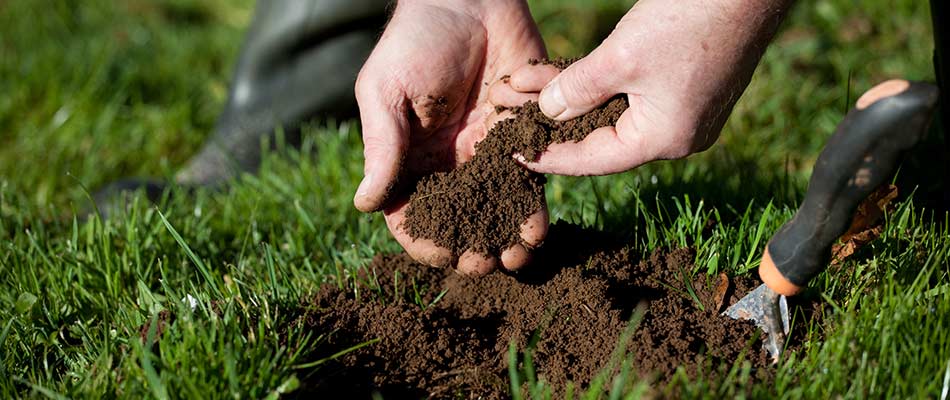 One of the most important things you need to ensure your lawn is healthy is a balanced pH level. At Free Spray Lawn Care, we can help your soil maintain a balanced pH level that will improve your lawn's nutrient uptake and promote robust growth. Our lime application service involves a free test to determine your soil's pH level. We like to see a neutral pH level, which is around 7.0. Anything lower than that means your soil is acidic, so we will proceed to apply granular limestone to your soil. Spring and fall are the best time to apply lime to your soil, so make sure you schedule this service early and don't miss out on the benefits of liming.
It can be hard to know at first glance whether your soil is acidic or not since a soil test is usually necessary. However, common telltale signs that the soil is acidic and that you need our lime applications include thin, yellowing turf and moss growth. We provide our lime application service for properties in Mansfield, Wooster, Strongsville, OH and nearby areas.
---
Our Lime Application Process
The first step we take to find out the condition of your soil and whether its pH levels are balanced is conducting a soil test. Don't worry because this won't cost you an extra cent! We will test your lawn for free to find out the pH levels of the soil. This way, our experts will know how acidic the ground is. At Free Spray Lawn Care, we like our pH levels around 7.0. If it goes lower, it means your soil is acidic. Our lime applications aim to neutralize acidic soil so that more nutrients are available for your grass.
The next step in our lime application process is the actual application of lime. Our team uses granular limestone to neutralize the soil's acidity without leaving the dusty residue common with powdered limestone. We also use a water-soluble substance to hold the granules together. When wet, the mixture we use quickly dissolves into the soil for faster absorption.
---
When is the best time to apply lime?
The general rule of thumb when applying lime is to never do it when the ground is frozen. That is why we recommend applying lime to your soil in the spring and the fall. Spring applications will help improve your lawn's soil condition in time for summer, while fall applications will give the soil enough time to absorb the granular limestone before the coldest weather arrives.
Precipitation during the fall season helps break down the lime faster, allowing the soil to absorb it quickly and neutralize.
---
Signs Your Soil Needs Lime Application
Our experts know it is not easy to detect soil acidity or alkalinity without a proper soil test. Because of this, many property owners don't realize their soil needs treatment. You don't have to worry about that anymore because we have outlined the common signs your soil needs lime application. These include:
Yellowing turf
Increased moss and weed growth
Fertilization treatments that don't seem to work
If our area is constantly receiving rainfall, then leaching or the loss of nutrients like calcium and magnesium from the soil is possible. Rain replaces these nutrients with acidic ions, increasing the soil's acidity. This is normal in Mansfield, OH and surrounding areas.
---
Call our experts today to schedule our lime applications!
Aside from beneficial treatments like fertilizers and weed control treatments, your lawn also needs good soil to flourish. That is why our experts at Free Spray Lawn Care offer an outstanding lime application service to ensure your soil is not acidic and essential nutrients are available for your grass. We recommend scheduling this service in the spring and fall to yield favorable results for your lawn. Our team provides our lime application service for properties in Mansfield, Wooster, Strongsville, OH and nearby areas. Call 419-529-5296 today to schedule our lime treatments!