Grub Control Treatments for Lawns in Mansfield, Wooster, Strongsville, OH & Surrounding Areas
Prevent grubs from damaging your lawn with our grub control treatments.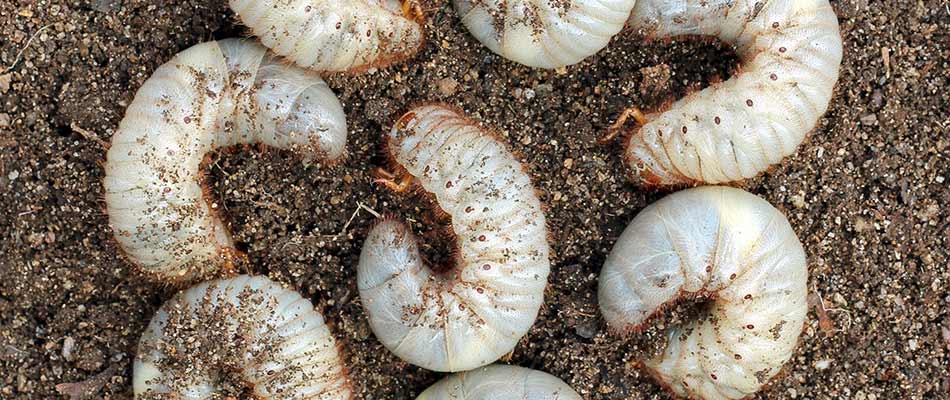 Summertime in Ohio is a beautiful time of year. However, the warm weather also brings with it a hidden danger to your lawn - grubs. These nuisance creatures emerge during the summer and begin feasting on the roots of your grass. This will kill your lawn since it won't be able to get the necessary water and nutrients it needs to survive.
At Free Spray Lawn Care, we provide preventative grub treatments in June as well as curative treatments using top-of-the-line products. Our company proudly serves properties in Mansfield, Wooster, Strongsville, OH and throughout the surrounding areas.
---
What are grubs and how do we prevent them?
Grubs are the larvae of Japanese beetles. These beetles dig shallow holes in your soil to lay their eggs. When these eggs hatch and grubs emerge, they will look for food and their favorite meal is the roots of your grass. They can quickly infest your entire lawn, causing significant damage. The best way to prevent this from happening is to destroy the eggs before they ever hatch.
Preventing grubs from hatching is all about timing. These pests will start to emerge and cause damage to your lawn in late July and August. At Free Spray Lawn Care, we spray your lawn with a preventative treatment in June, which is the time of year when the adult beetles are laying their eggs. This will eliminate any eggs before they hatch, so you won't have to worry about your lawn being destroyed.
We offer half-off preventative treatments when paired with a lawn care program that has 5 or more treatments.
---
We apply preventative treatments annually in June.
When we are performing our preventative grub control treatment, we use a highly effective spray to destroy the eggs before they ever hatch. This preventative treatment only needs to be applied one time a year. It is very important that it is applied before the grubs hatch, as it is designed to kill off the eggs and it is not effective against grubs that have already hatched. That's why we spray in June, well before they start to hatch and cause damage in early August.
---
If grubs have already infested your lawn, schedule our curative treatments.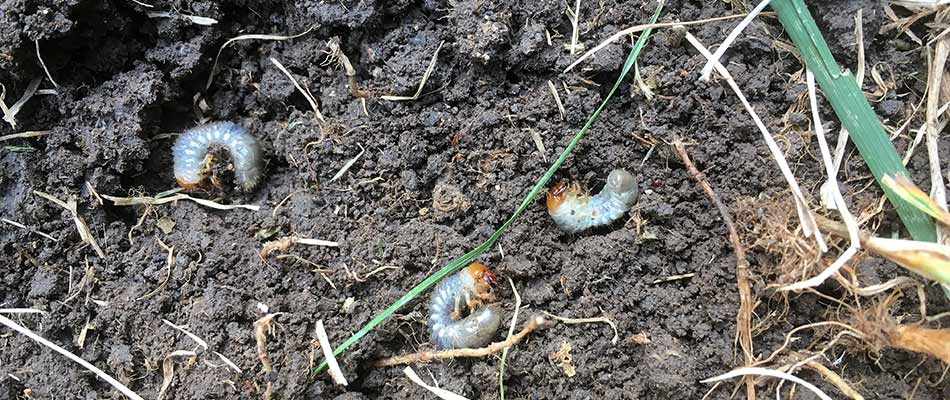 If you didn't sign up for our preventative treatments and now have a lawn that is filled with grubs, we can still help you out! We provide curative treatments that will kill these grubs, stopping them from causing further damage to your lawn. Our crew will spray a curative pesticide on your lawn to eliminate any grubs. If you're not sure if your lawn is infested with grubs, look for these signs:
Your lawn has brown or yellow patches
Your grass feels spongy when you walk on it
You can roll up dead grass like a carpet
There is an increased animal presence on your lawn, as they may be searching for grubs to eat
You can actually see grubs in your soil
Unfortunately, while we can kill grubs that are on your property, we can't reverse any damage that has already been caused. However, we do offer an exceptional lawn care program that will nurse your lawn back to health so it can regain its beauty.
---
Call us today to get signed up for our preventative or curative grub control services.
Whether you want to be ahead of the game and stop grubs in their tracks or you've already noticed signs of grubs and want them taken care of right away, we can help! Our team has 21 years of experience dealing with grubs, so you can be sure that we have the know-how to get the job done right.
We proudly provide preventative and curative grub control services to property owners in Mansfield, Wooster, Strongsville, OH and throughout the surrounding areas. Give us a call today at 419-529-5296 to sign up for our services so you can keep your lawn grub-free all summer long.