We Offer Chigger Control in Mansfield, Wooster, Strongsville, OH & Nearby Areas
We treat your property 6 times from April to October to protect your lawn from chigger mites.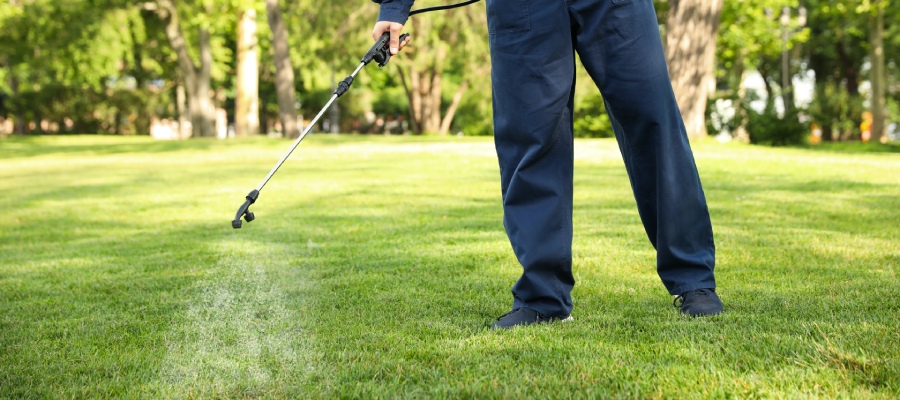 Chiggers are tiny, red, biting mites that you wouldn't want to find in your lawn. When they make their home in your grass, they span out in clusters and will attempt to latch on to your shoes and legs as you walk through the infected areas. Not only do these pests leave behind an itchy bite, but they also deplete the nutrients from your grass and cause it to die. If you want to avoid chiggers altogether, then our chigger control service can help.
We treat chigger mites using a preventative liquid insecticide that's formulated with ingredients like bifenthrin to target these pests. Our treatments run from April to October, and we'll visit your property 6 times over the course of these months to ensure that your lawn is thoroughly protected. After each treatment, all you need to remember is to allow the treatment to dry for at least 2 hours before using your lawn again like normal. We offer our chigger control in Mansfield, Wooster, Strongsville, and nearby areas in Ohio.
---
How We Treat Chigger Mites
Their itchy bites and destructive tendencies for your grass are what make chiggers so annoying to deal with. When you sign up for our chigger control service, we can help you keep these mites away from your property so that you can thoroughly enjoy your lawn.
We apply preventative treatments because we want to help you avoid these pests altogether, rather than having to ward off an active infestation and nurse your lawn back to health. With us, you will receive continuous treatment over the course of 6 visits from April to October, as these are the months when chiggers are most active. Each treatment will be spaced out about 4-6 weeks apart and is constantly working to protect your yard until our next visit.
---
We use treatments with bifenthrin to target chiggers.
Serious pests require serious treatments, which is why we believe in using products that are going to be as effective as possible at keeping chiggers off of your lawn. For this reason, we use a liquid insecticide formulated with the active ingredient called bifenthrin. Our team uses a truck sprayer to apply our preventative treatments across your lawn. You can rest assured that our treatments will protect you, your family, and your lawn from chigger mites!
The active ingredient bifenthrin also targets fleas and ticks!
---
Stay off of your lawn for 2 hours after our chigger treatments.
If you're wondering about what you should do to care for your lawn after we apply our chigger control treatments, then we've got you covered. We recommend that you and your family stay off of your grass for at least 2 hours after we leave so that the product can dry. Once your lawn is completely dry, it's okay for you to allow your kids and pets to play on the grass and begin using your yard like normal!
---
Call our team today to schedule our chigger control service!
Chiggers are annoying to deal with but preventable when you get ahead of them with treatments. We offer preventative chigger control to help keep your lawn protected against a potential infestation. Our service is available in Mansfield, Wooster, Strongsville, and surrounding communities in Ohio. Call our team today at 419-529-5296 to schedule!