Aeration and overseeding services for properties in Mansfield, Wooster, Strongsville, OH and surrounding communities.
We provide aeration and overseeding services to loosen your lawn's soil and promote healthy growth.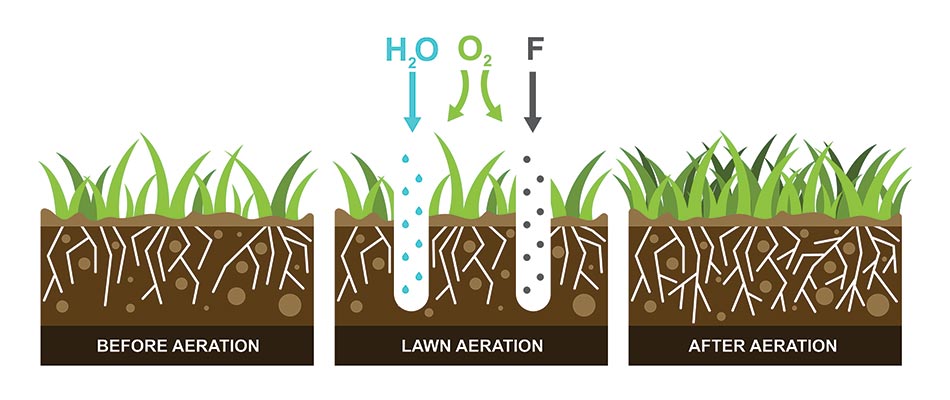 During the spring and summer months, your lawn will likely experience heavy traffic from people, machinery such as lawnmowers, and animals. The weight of these stressors on your lawn will naturally compact your soil over time. Heavy rainfall can also compact the soil, and we get plenty of rain throughout the Mansfield, Wooster, and Strongsville, Ohio areas. When your soil is compacted, it makes it harder for nutrients to reach the roots of your grass.
To combat this problem for our clients, we offer aeration services in the fall to loosen your soil so the roots can absorb all the water, light, and nutrients they need to thrive. Aeration is often paired with our overseeding service because it provides a great opportunity for seeds to pass down into the dirt where they can obtain better seed-to-soil contact. We offer premium seed blends for our overseeding service that will fill your lawn with lush, strong grass as well as a starter fertilizer add-on treatment to give the new seeds the best chance of germination and success.
---
What Is Aeration & When Do We Offer it
Aeration is the process of puncturing your lawn to create tiny holes that reach a few inches down into your soil. These holes will make it much easier for nutrients to reach your roots, thus, creating a stronger and longer root system. In the Mansfield, OH area, the best time to have your lawn aerated is in September or October to maximize its benefits.
---
Overseeding Pairs Perfectly with Aeration Services
We offer overseeding services directly after aeration. This involves our crew spreading grass seeds across your lawn. These seeds will fall into the holes in your soil left from the aeration process where they can grow nice and strong. Overseeding provides a variety of benefits, including the fact that it can:
Make your lawn more dense and full
Fill in bare patches of your lawn
Help prevent weed growth
To ensure your lawn stays healthy and luscious, you should schedule aeration and overseeding services annually.
---
Types of Seed Blends We Use for Overseeding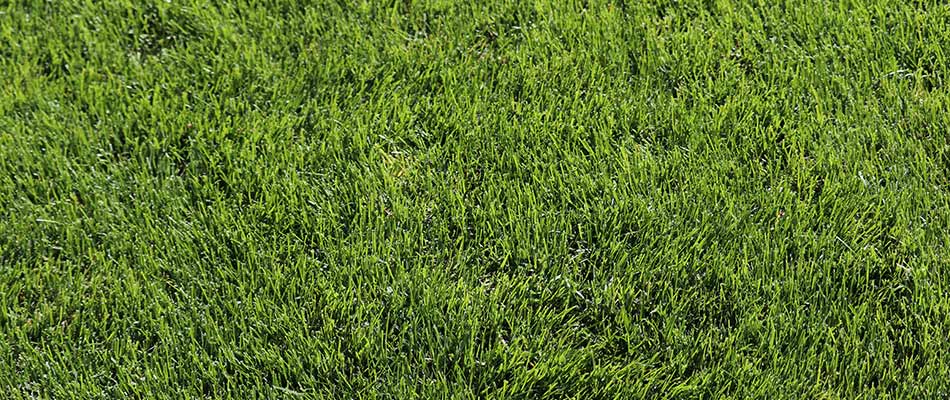 When you schedule our overseeding service, you'll have two types of cool-season seed blends to choose from:
Kentucky bluegrass/ryegrass - This seed blend contains two different types of grass - Kentucky bluegrass and ryegrass. Kentucky bluegrass offers disease and drought tolerance while ryegrass offers quick germination and soil stabilization.
Turf-type tall fescue - This type of grass is very popular among our customers. It develops a deep root system, making it very durable. It is also very resistant to lawn diseases.
If you're having trouble choosing which type of grass seeds you want for your lawn, don't worry! Our skilled and knowledgeable team will be able to answer any questions that you have and help you select the option that's right for you.
---
Add Our Starter Fertilizer Treatment After Overseeding
If you plan on overseeding your lawn, you should also take advantage of the starter fertilizer treatment that we offer. This type of fertilizer is designed for new grass seeds and is loaded with phosphorus and other important nutrients. It will help your grass seeds take root quickly, giving them the best chance to grow into healthy, beautiful grass.
---
Call us to schedule your aeration and overseeding services today!
Get the healthy and beautiful lawn you've always wanted by signing up for our aeration and overseeding services today. We have proudly been serving homeowners in Mansfield, Wooster, Strongsville, OH and throughout the surrounding areas since 2000. Give us a call today at 419-529-5296 to schedule our services.